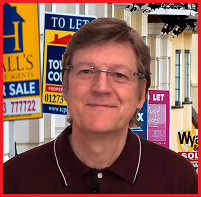 Estate Agency Sales Training
Take advantage of my high street and online experience, knowledge and innovation to help grow your estate agency sales business.
I will Introduce a sales strategy, a 3-6 month step by step plan of action to follow with objective of positioning you in the mind of the potential seller so that when it comes to
selling and requesting three agents to provide a free valuation you are one of them.
Achieved through a combination of consistently producing relevant content with retargeting and lead capture via a marketing funnel .. plus a few clever marketing tricks !
Part 1 - Systems and Procedures
Part 2 - Training
.................................................................
Part 1 Systems & procedures
1, Set up and manage a Google PPC campaign + landing page and funnel + retargeting
2, Set up and manage a Facebook local campaign plus landing page and funnel + retargeting
3, Set up Youtube advertising campaign plus landing page + funnel + retargeting (advertise on competitors videos)
4, Set up email auto-responder to drip feed nurture campaign
5, Set up and manage a GMB campaign
6, Introduce and set up my cardboard box strategy
7, Introduce and set up my Facebook groups strategy
8, Introduce and set up my Facebook competition strategy
9, Set up and manage a recurring webinars (landlords / Vendors / First time buyers)
10, Introduce and set up local website exposure
11, Set up regular posting to all social media sites
12, Set up a Youtube channel
Also create videos where required
Part 2 Training
Provide in-house training to office staff (to include research & role play)
Provide in-house training to the valuer
I have been in the estate agency industry for over 25 years and a member of the N.A.E.A. having run my own business with three high street shops. Knowing the market was changing i sold the shops, re-branded and In 2004 launched one of the first online "no commission" estate agencies.
Not having a high street presence back then was risky and meant our marketing had to be outstanding to attract potential vendors to our business... this is where video came in.
We used video not just to market our properties but also to promote our brand and it was a real success, when i sold the business in 2015 we had over two thousand property videos on our Youtube channel.
Since 2015 i have been a freelance estate agent providing valuations and offering advice and knowledge based on my experiences as a traditional and online agent, this includes Youtube and Facebook marketing, Google pay-per-click, reputation marketing and general lead generation.
Video will help you stand out from your competitors and impress potential vendors with your marketing skills. You can include the video as a value added service or you can "up-sell" as part of a marketing package.
I gained my P.f.C.O. ( Permission for Commercial Operations ) licence from Aerial Motion Pictures based in Wallingford, Oxfordshire and fly a professional DJI Mavic 2 SUA (small unmanned aircraft) fitted with a Hasselblad 20MP camera
I am available for vendor free valuations and have now added Drone photography and video as an additional service.
© Copyright martinwilliams.me